This post will share the best acrylic nail ideas this year.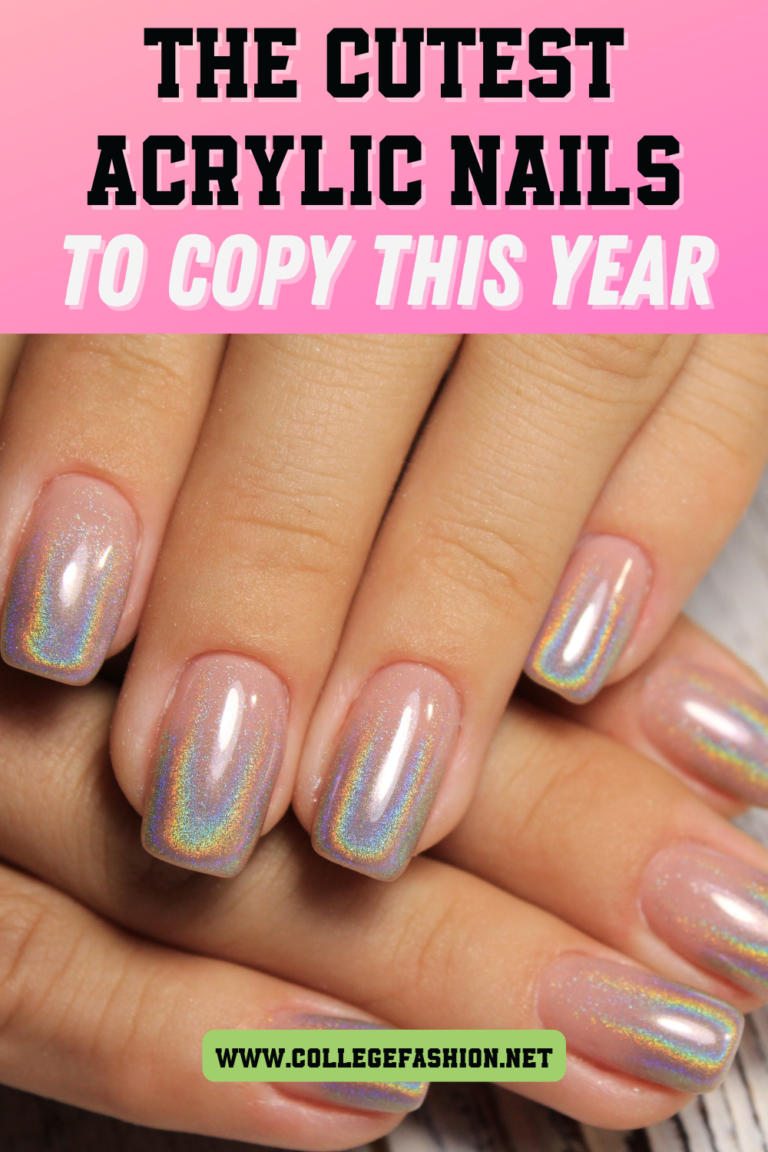 Over the past few months, we've shared so many cute nail ideas on this site. From pink nails to black nails, classy nails to fun Disney nails, we've covered it all.
But what if you specifically want to get acrylic nails done? Well, this is the post for you.
Acrylic nails can be different than other types of manicures since they're made up of a substance that's bonded to your natural nail. They're done at a nail salon, so you'll also want to have your manicure design done at the salon.
Below, I'll share tons of cute acrylic nail ideas to get your inspiration going for your next salon visit!
Related reading: You'll Fall in Love with These Pretty & Trendy Gel Nail Designs
Table of Contents
What Are Acrylic Nails?
First, let's explain what exactly acrylic nails are, since they are sort of a mystery to anyone who doesn't work at a nail salon.
According to Harper's Bazaar,
"Acrylics are a combination of a liquid monomer and a powder polymer that form a paste which is bonded to the natural nail. It's then given the desired shape, where it hardens in place to add strength, length, and thickness to the nail."
Acrylic nails are insanely popular these days because they can add tons of length to your natural nails and can be made into any shape you desire, from coffin to stiletto.
Acrylic Nails Ideas
Here are our favorite ways to rock acrylic nails this year, with options for every style and season.
Cute Acrylic Nails
Soft Pastel Marble Ombre Acrylic Nails
I love these cute acrylic pastel marble nails. They incorporate multiple pastel colors, plus rhinestones and plenty of glitter.
While these nails have a lot going on, they don't look crazy, thanks to the muted pastel tones. These would be perfect for springtime or a vacation.
Pink French Tip with Sugar Glitter
Sugar glitter has been a huge nail trend for the past two years, showing no signs of slowing down yet.
Embrace the trend with this pretty acrylic nail design. It incorporates sugar glitter into a classic pink and white french mani but makes the design more interesting by adding floral and striped accent nails.
Want to get this look for yourself? Watch the video tutorial above to see how it's done.
Neon Ombre Swirl Nails
Hello, spring break!
These nude and neon swirl acrylic nails are bold, bright, and perfect for your next beach vacation. Whether you're heading to Miami or wishing you were, these nails will make you feel the summer vibes whenever you look at your hands.
Related reading: 12 Baddie Nail Ideas You'll Be Obsessed With
Barbiecore Nails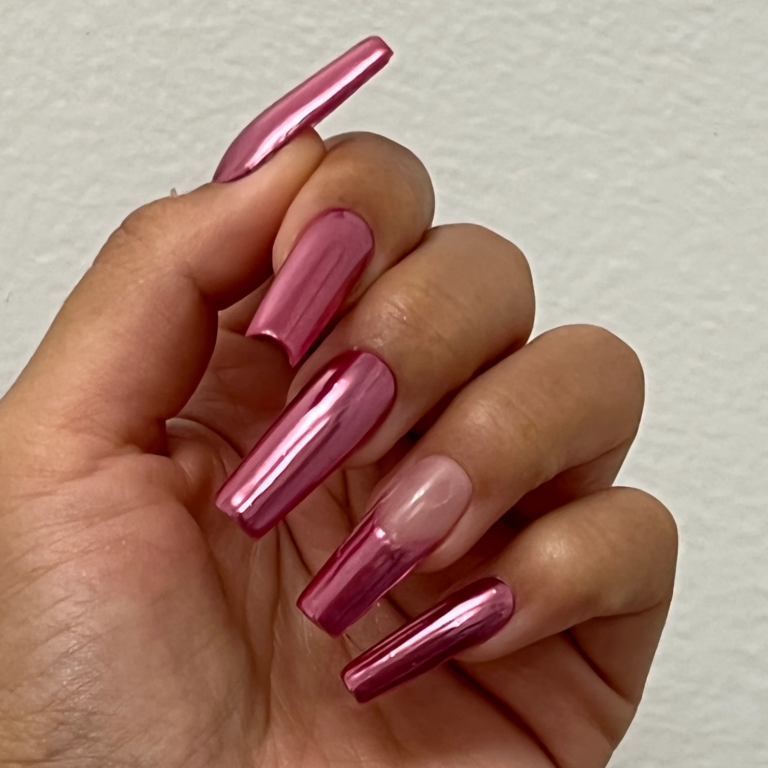 By now, you probably know all about the Barbiecore trend that's been popular this year. While we love our Barbiecore outfits, why not take the trend further with some Barbiecore nails?
These pretty pink chrome nails are stunning and are sure to turn heads. They would look great in acrylic, but they're actually a set of press-ons. If you want to skip the salon, you can buy this exact set right here.
Pastel Pink Acrylic Nails with Rhinestones
It does not get cuter than these stunning pastel-pink acrylic nails with rhinestones!
If you want to make a statement and go all out with the girly vibes, these are the nails for you. They have a beautiful pastel lavender-pink base, upon which the nail artist adds 3D elements for a showstopping finish.
Watch the video tutorial above to see how this manicure is done in a salon.
Pretty Pastel Blue Nails with Floral Patterns & Butterflies
If you want to celebrate springtime (or add some Y2K style to your life), try these pastel blue 3D floral and butterfly nails.
These nails are adaptable to your style. For instance, if you wanted a simpler take on this look, you could omit the 3D flowers and rhinestones. Alternatively, if you wanted to go bolder, you could add more glitter to the ombre nails. It's totally up to you!
Simple Acrylic Nails Design Ideas
Sometimes, simple is best! If you don't like anything too out-there, these simple acrylic nail designs will be perfect for you.
Royal Blue and Gold Acrylic Nails
While simple in design, these royal blue and gold acrylic nails pack a big punch.
Essentially, this manicure is just a royal blue base with two slanted french accent nails, topped with gold leaf detailing.
If you wanted to try these nails at home, this is a great nail look for beginners to try. Watch the tutorial above to see how you can DIY it.
French Manicure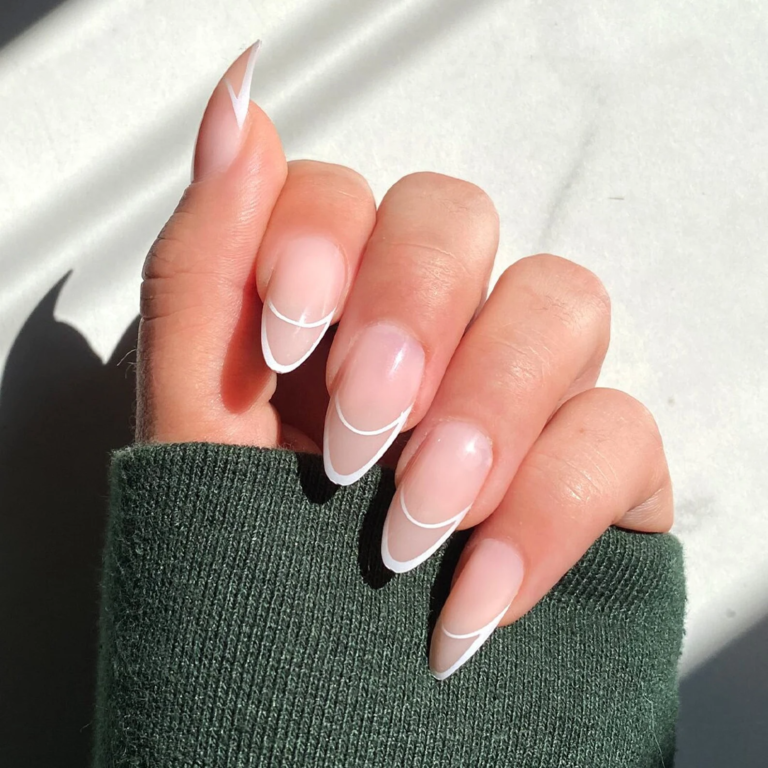 Acrylic nails and french manicures go together like peanut butter and jelly. They're a classic combo for a reason: They look beautiful for every scenario and are universally flattering.
If you want to switch up your usual french mani, I highly recommend trying this outline french nail design. It's so beautiful and subtle and is just a little more interesting than the classic french manicure.
Don't feel like heading to the salon? Great news: These nails are actually press-ons, which you can purchase on Etsy and re-wear a million times.
Glossy Black Nails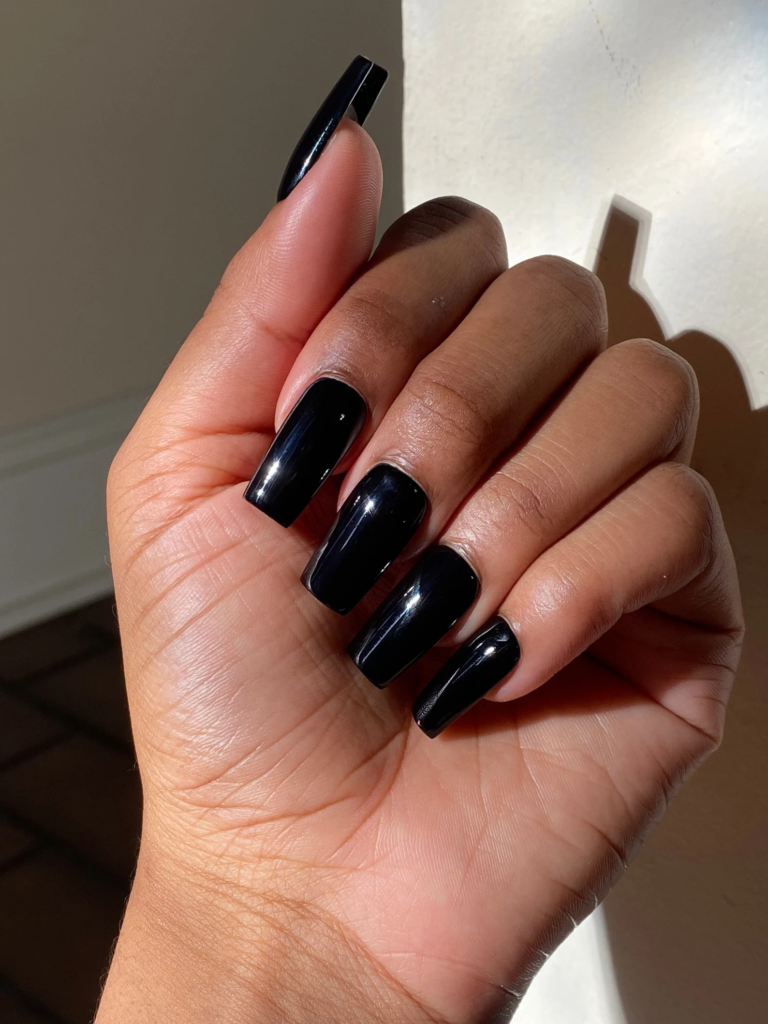 It does not get simpler — or more stylish — than a classic glossy black manicure. Once reserved for goths and punks, black nails are now considered chic and timeless. They're a great way to mix edgy and sophisticated in your manicure.
Any salon can do a glossy black mani for you, but there's no need to shell out the cash. Once again, the nails above are press-ons, available for purchase here.
Matte Red Bottom Acrylic Nails
If you, like me, are obsessed with "red bottom" heels, you'll love these pretty red-bottom acrylic nails!
I love this design because it's deceptively simple. It's just a black nail base with a matte topcoat applied to everything but the tips for a subtle french. The interest is really in the application of red polish to the backside of the nail.
Obviously, this design will only work on long nails! Watch the video to see how it is achieved.
Milky White Acrylic Nails
I am a sucker for a clean, milky white nail. There's something about white nails that always makes me feel like I have my life together.
These milky white acrylic nails are made extra cool with the addition of a Y2K-style butterfly detail on each pinky. So cute!
Marbled Acrylic Nails
Marble nails are simple to do, but they always make a statement. The best part about them is you can do them in any color combo you choose.
These marble acrylic nails are done in hot pink with purple accents, perfect if you like bright colors and want everyone to comment on your mani.
Clear French Tip Nails
Talk about simple yet stunning! These clear french tip acrylic nails look like they're made of glass. Think Cinderella's glass slipper, except for your fingers.
If you've been wanting to try the clear nail trend, this is a perfect starting manicure to get. You can also add more to this if you wanted. Butterflies or flowers would look so cute as accents!
Short Acrylic Nails
If you want acrylic nails but don't want to deal with lots of length, no problem! There are so many cute short acrylic nail ideas we love this year.
Lavender short acrylic nail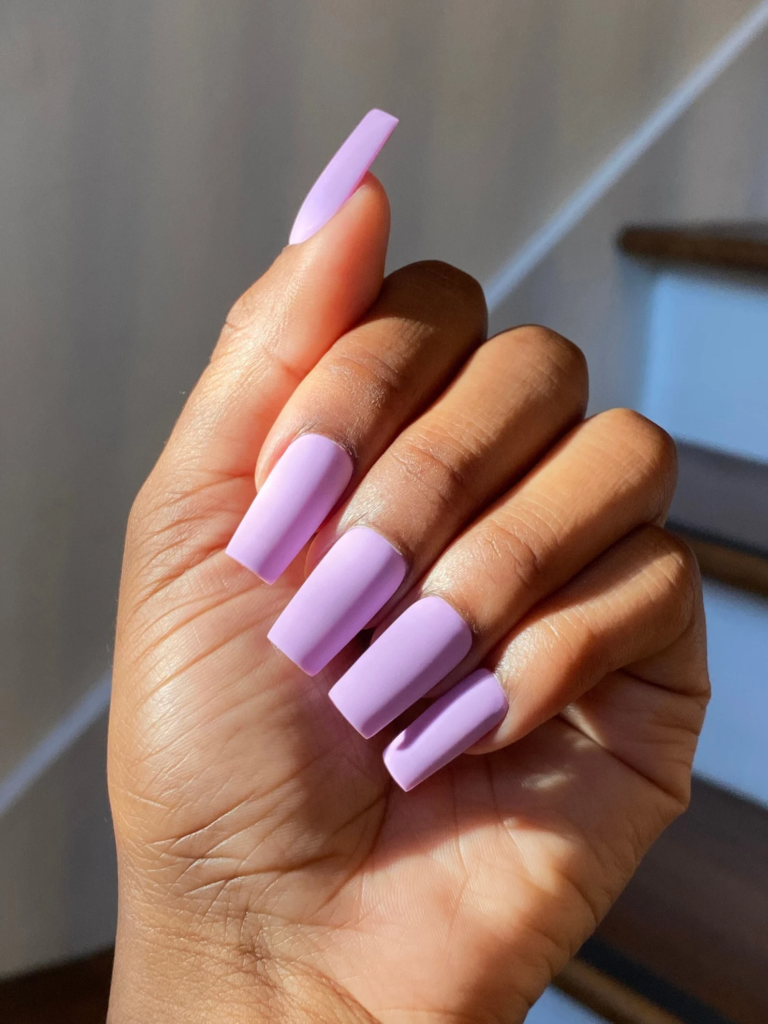 Lavender is one of our favorite colors of the past few seasons (okay, we may be a bit biased since our website is purple), and it's particularly great on nails.
You cannot go wrong with a simple lavender manicure on short, squared-off acrylic nails.
If you want to save some cash and skip the acrylics, you can buy these exact nails as press-ons here. Once again, press-ons are great because you can re-wear them repeatedly, saving you money.
Baby boomer nails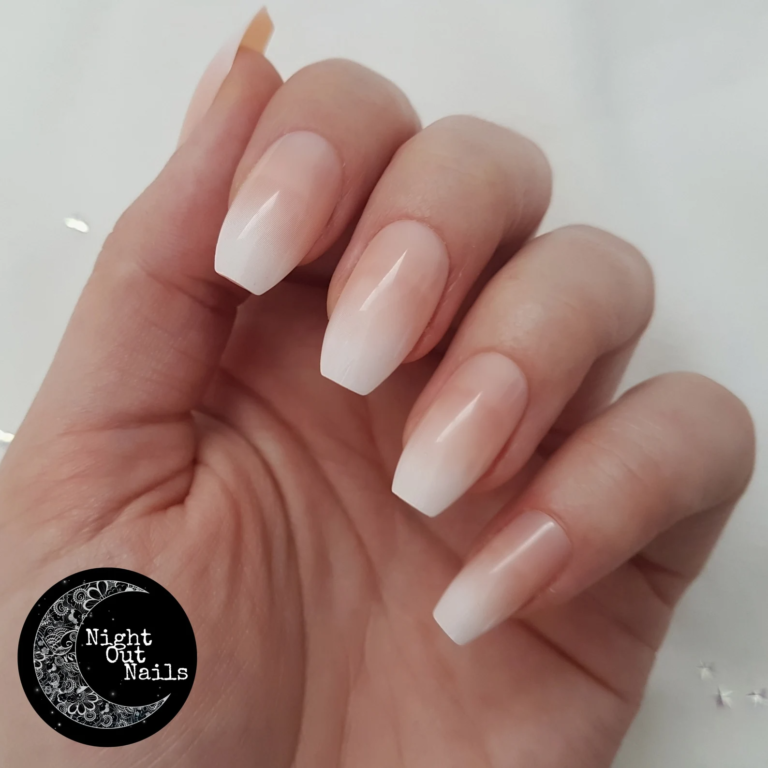 Baby boomer nails have been incredibly popular over the past few years. Characterized by their pink, beige, and white ombre design, these nails look simultaneously natural and sophisticated.
You can easily get baby boomer nails done at any salon, but for a manicure you can re-wear, pick up these nails as a set of press-ons here.
White acrylic nails
Since white is such a classic nail polish color, it looks as amazing on short nails as on long nails.
The video tutorial above shows exactly how a short acrylic full set is done and how the milky white look is achieved on these short nails.
Short pink Valentine's acrylic nails
You don't have to have long nails to do nail art looks!
This pretty Valentine's Day manicure looks beautiful on short acrylic nails. From its heart-shaped french nail detail to the XO art on the middle finger, this manicure is sweet and stunning.
Red nails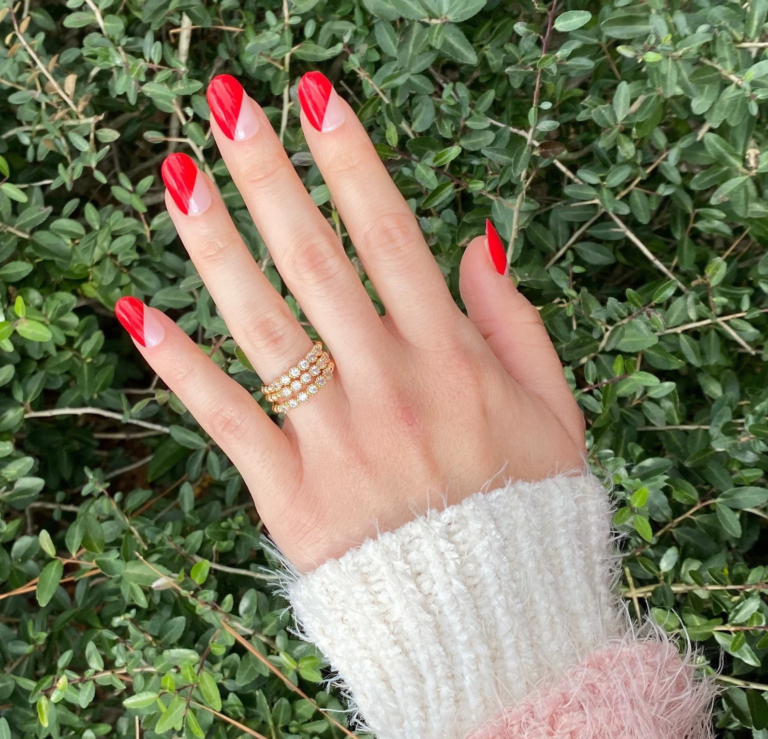 Red is another classic nail color that looks fantastic on short nails.
While you could do red all over, I'm particularly into the red and nude slant design on these pretty press-on nails. It's a little less basic than plain red nails, and the look would be especially great for Christmas!
Related reading: 17 Beautiful Red Nail Ideas You Can Rock Year-Round
Nude Stiletto French Short Nails
I love the look of short stiletto nails done in acrylic.
Here, a basic stiletto nail is dressed up with nude/pink polish and a white swirl french manicure design. So pretty! Watch the video above to see how this look is done.
Fall Acrylic Ideas
Fall is one of my favorite seasons for acrylic nails since I'm not as active outdoors as I am in the summer months. There are so many fun fall designs to do on acrylic nails, so here are a few of our faves:
Brown Daisy Nails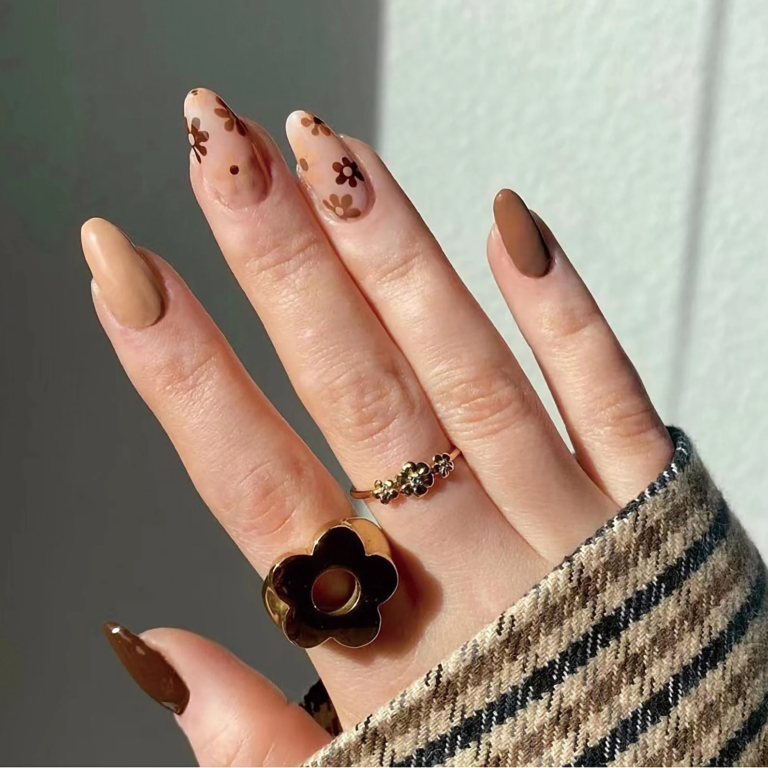 Hello, retro vibes! This pretty brown daisy acrylic nail idea would look stunning all year round, but especially in the autumn months.
You could get these done at a salon, but I'd pick up this set of press-ons so I'd have these nails ready to go all year round.
Ombre and Glitter
Ombre nails look beautiful in fall colors. Case in point: These brown and peach ombre acrylic nails with subtle glitter on top.
You could certainly have these done on all of your nails, but I love the addition of a leaf foil accent nail to really give this look a fall vibe.
Simple Leaf Design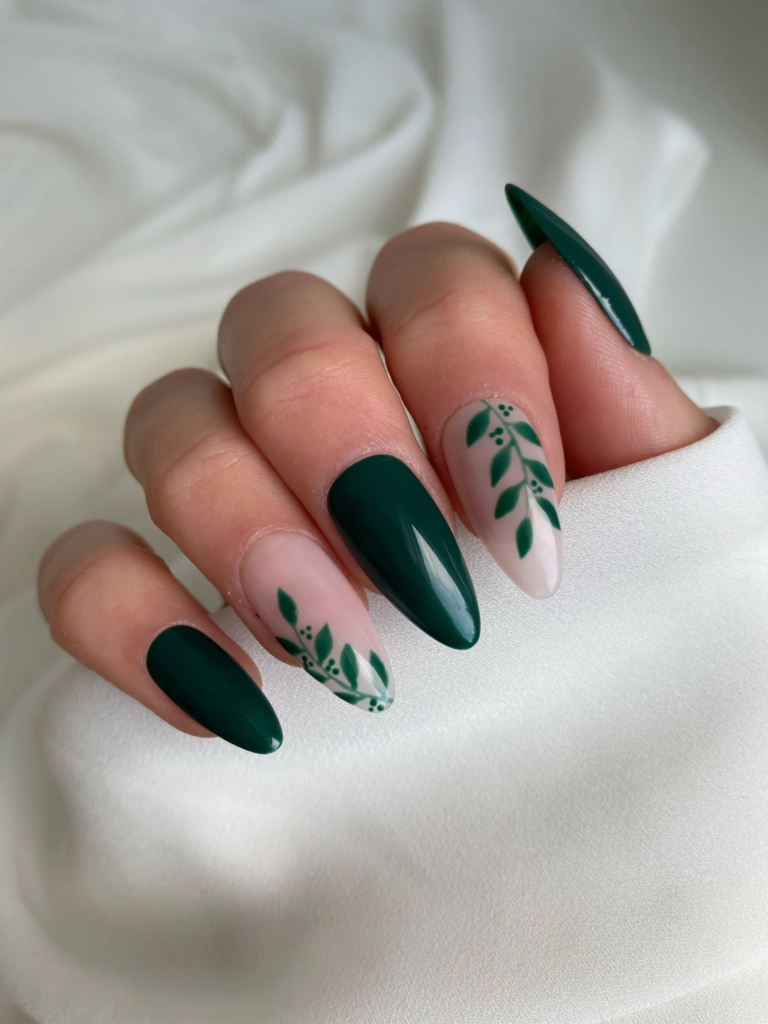 You can't go wrong with leaf nails in the fall! Unlike the typical browns that we see for leaf nails, I love how these press-on nails incorporate deep green.
This design would look amazing on acrylics, or it could even be something to attempt to DIY at home if you have nail art skills.
Green Nails with Encapsulated Leaves
Here's another take on an autumn leaves acrylic nails idea, combining the colors of the previous manicure with the encapsulated leaves of our first fall look.
This one is complicated, but it should be easy for most nail technicians to pull off. Watch the video tutorial above to see how it's done.
Autumn Leaves Detailed Design
If you really want to stun with your fall nails, give this over-the-top autumn leaves detailed design a shot.
This nail design has it all, from a faux fishnet detail to rhinestones, encapsulated glitter, and floral nail art. It's everything you could want in a fall manicure, all in one.
Orange and Brown Coffin Nails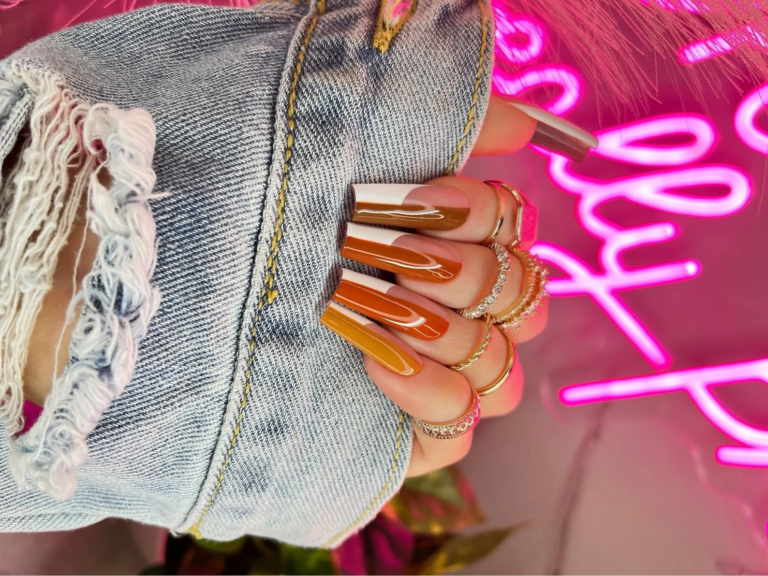 Here's one of the best simple and minimal acrylic nail ideas that incorporates fall colors without any of the leaf or flower motifs. It's just shades of brown and orange polish applied halfway over basic french nails.
Once again, these nails are actually a beautiful set of press-ons, so I recommend skipping the salon visit and treating yourself to these!
Plaid Print
Finally, we have the quintessential fall print, plaid. These beautiful plaid nails would be perfect for fall, but they'd honestly work any time of the year.
Thanks to their pretty pearl embellishments at the cuticle, I can't help but be reminded of Chanel. These are so sophisticated and will get you millions of compliments.
What do you think of these acrylic nails ideas?
Have you ever gotten acrylic nails? Are you going to try them this year? Which of these cute designs is your favorite? Let us know by leaving a comment down below.