This post will show you the cutest orange nail designs to try this year.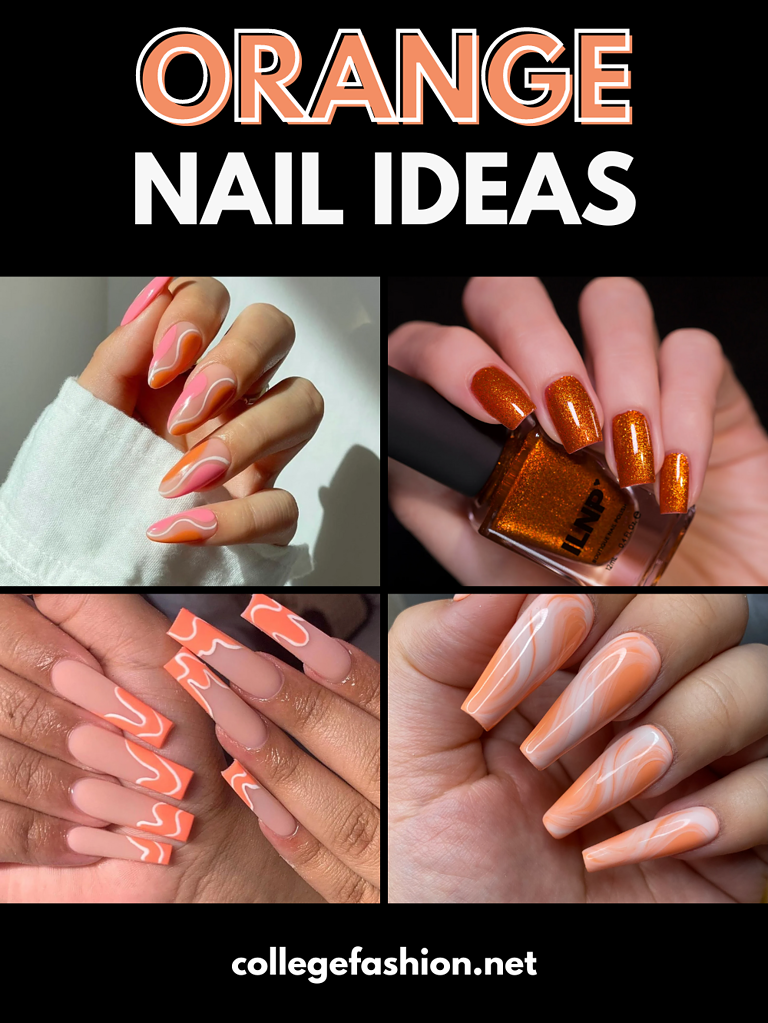 On the list of nail colors I typically choose, orange is dead last. I usually opt for my typical white, black, or nude and call it a day. Maybe I'll branch out to a blue if I'm feeling crazy. But I never think to try orange on my nails.
Recently, I've changed my mind. When looking up Halloween nail art ideas on Pinterest a few weeks back, I became obsessed with orange nails.
There's a lot to love about orange nails, tbh. First, there are so many ways to wear them — way more than I thought. Second, they're so unexpected. Finally, they work for multiple seasons. (Think pumpkin shades for fall and neons for summer.) TL;DR, if you want your nails to stand out, they're an excellent choice.
Ready to join me and give orange nails a shot? Read on for 15 cute orange nail designs that will inspire your next manicure!
Related reading: 20 Cute & Fun Halloween Nail Ideas to Die For
Table of Contents
Short Orange Nail Designs
1. Short Neon Orange Nails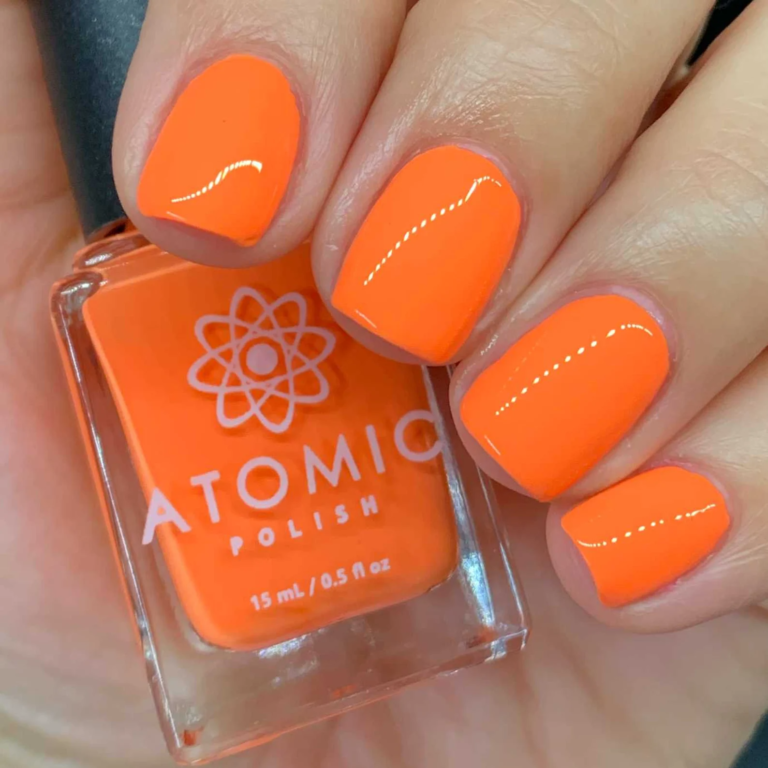 We're kicking off our list with some ideas for short nails. When your nails are short, there's nothing better than a glossy mani in a single bold color.
And it doesn't get bolder than this neon orange shade from Atomic Polish. Called "(Ne)," this shade is a light orange creme that's fully opaque in one coat. It would be perfect for a tropical vacation or to wear on repeat in the summer months.
2. Short Halloween Nails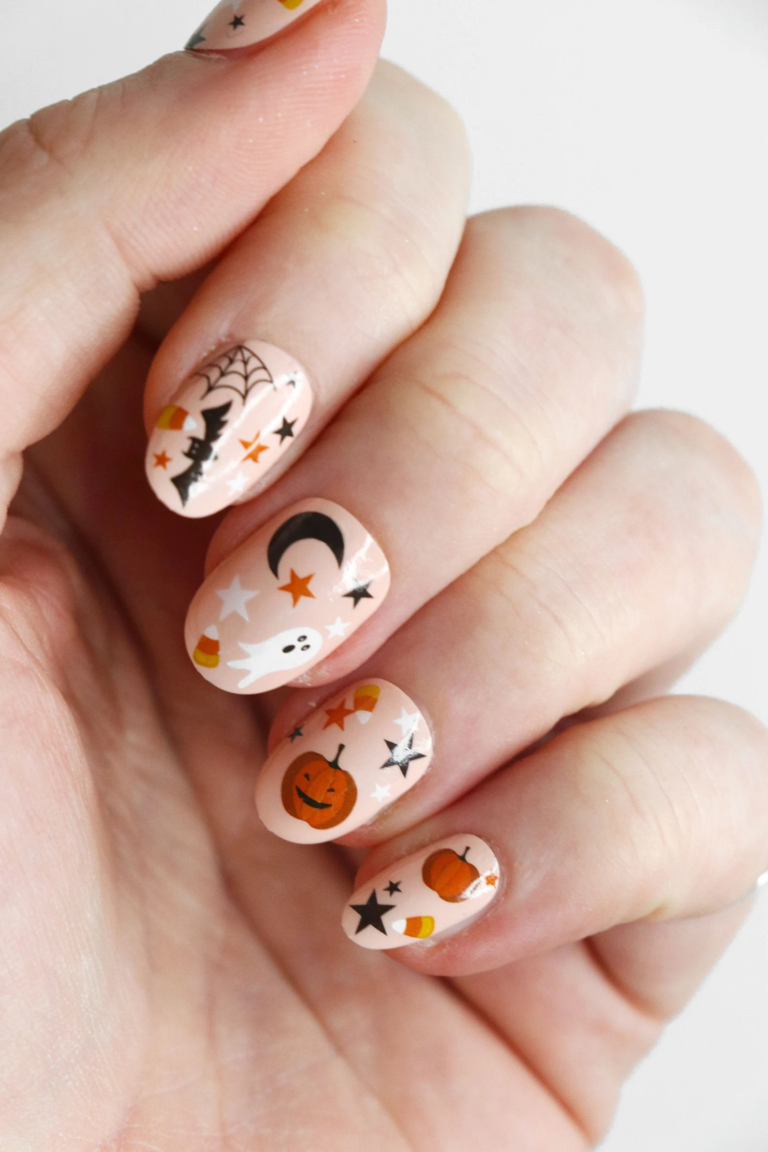 As I mentioned earlier, I was recently researching cute Halloween nails. I love celebrating every holiday with cute, seasonally-appropriate manis.
These Halloween nails are so easy to do and look really cute for the season. Start with a light orange creme base, then just add on some cute Halloween nail decals like the ones linked above. So cute and so simple — no nail art skills are required!
3. Short Nails with Oranges Nail Art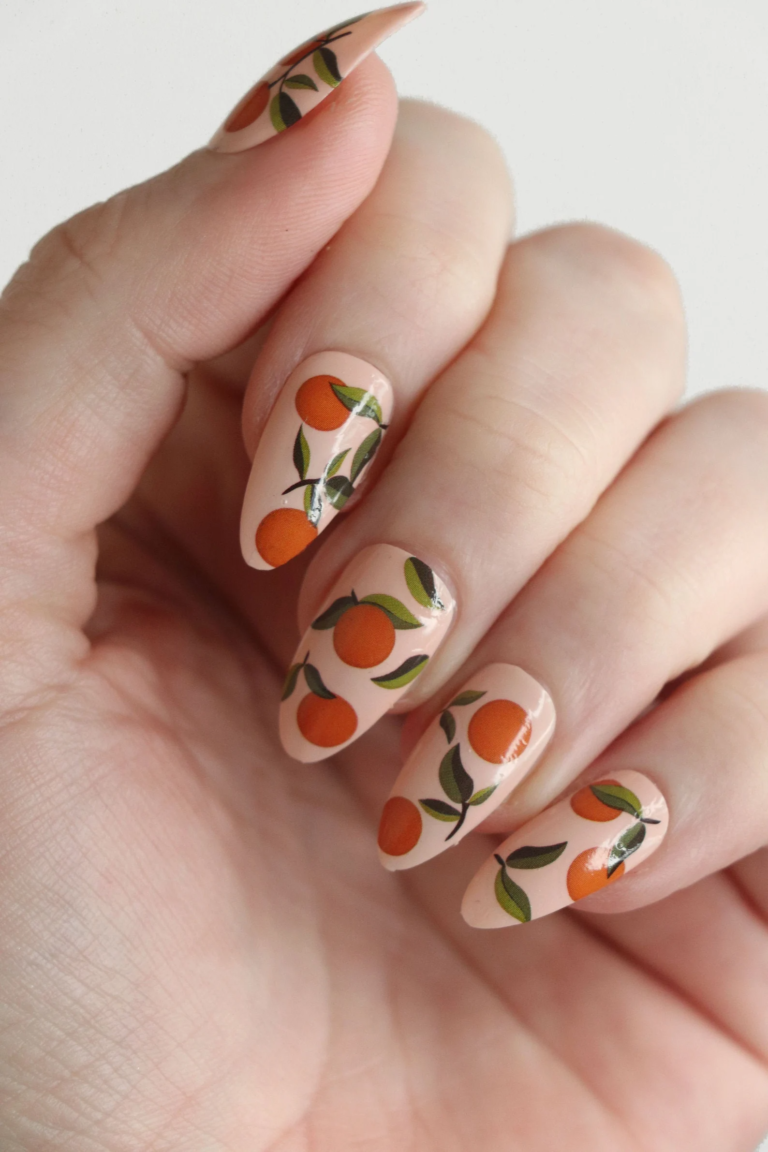 This orange-nail idea takes the concept of orange nails literally. Along the same lines as the Halloween mani above, this nail look combines a light orange base with cute decals, this time in the form of oranges with leaves. These are so cute and would be great for any season!
Pro tip: Be sure to apply your favorite clear topcoat over top of the decals to give them extra staying power.
4. Pink and Orange Swirl Short Nails
If you want a trendy orange nail design, this orange and pink swirl nails look is super cute and of the moment. Swirl nails have been trendy for a few seasons now and they're still as popular as ever.
If you want to get this look for yourself, you could DIY it with a small nail brush or just buy the press-ons linked above to get the exact look!
Orange Nail Designs with Glitter
5. Burnt Orange Glitter Nails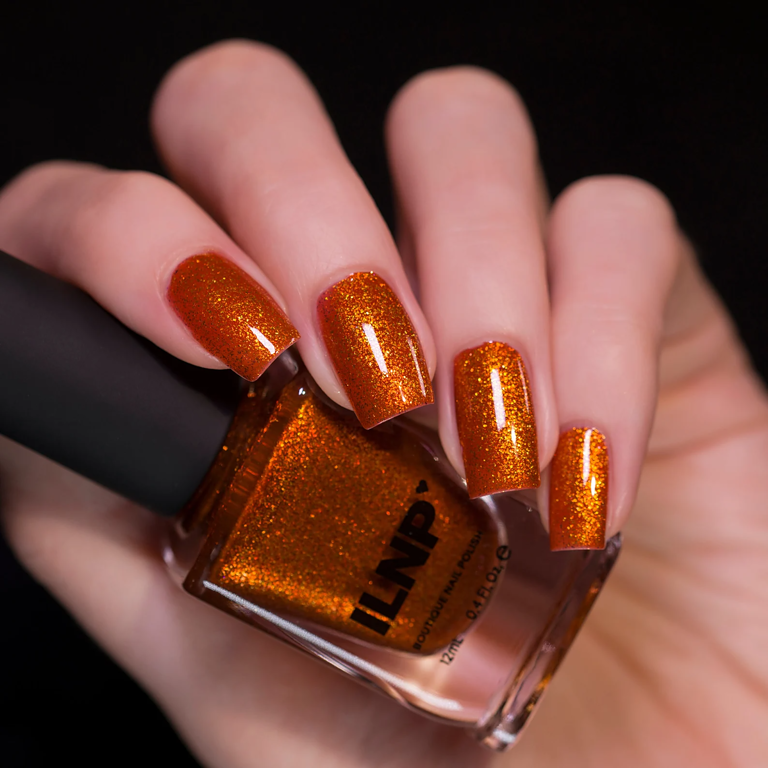 How pretty are these burnt orange glitter nails? They would be so gorgeous for Halloween or just celebrating the fall season.
The shade above is called "Pumpkin Patch" from ILNP on Etsy. It's described as "a warm and vivid burnt orange base jampacked with yellow-gold shimmer that reflects a lustrous sparkle at every turn," and the reviews are excellent. It's the perfect shade to bring those fall vibes to your nails!
Terracotta Ombre Glitter Nails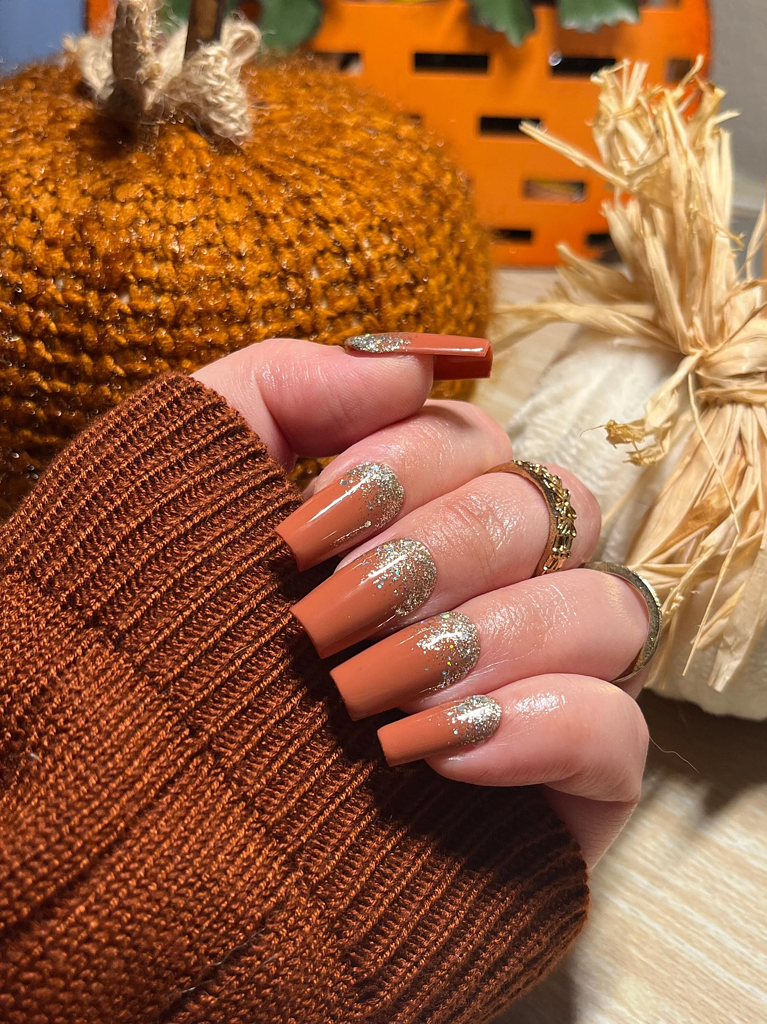 Here at CF, we're huge fans of ombre nails in general, but especially so when glitter is involved. This orange nail look combines a terracotta creme base with silver glitter ombre cuticles. It's such a pretty look that's sure to turn heads.
The best part is, you can scoop up these nails as press-ons on Etsy, so it's insanely easy to get this look at home.
Orange Glow Swirl Nails with Glitter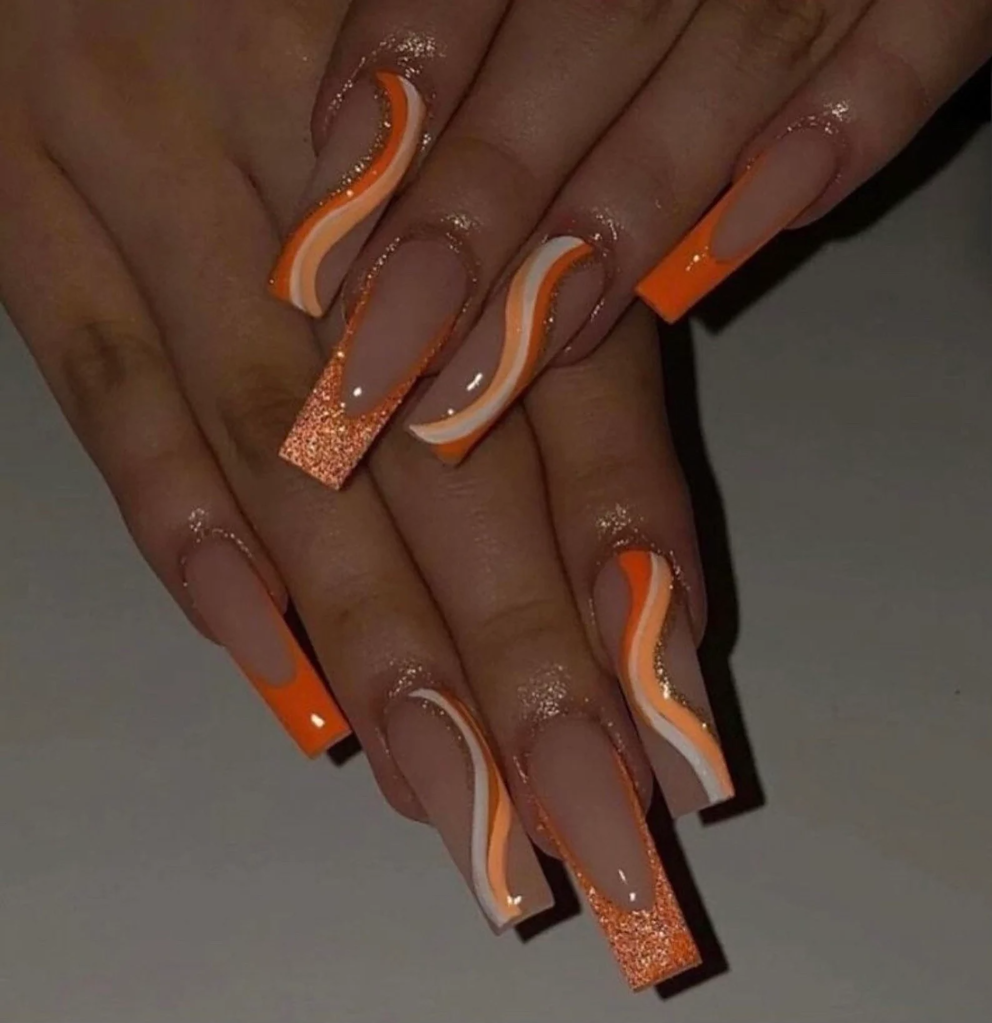 Hello, baddie vibes! These long, squared-off orange nails combine the popular swirl design with glitter accents for a look that's bold and beautiful. These are not the nails for the shy or faint of heart; a mani this cool demands attention!
Once again, you can get these nails as a set of press-on, so there's no salon visit needed to get the look.
Orange and White Nail Designs
Orange, White, and Silver Nail Wraps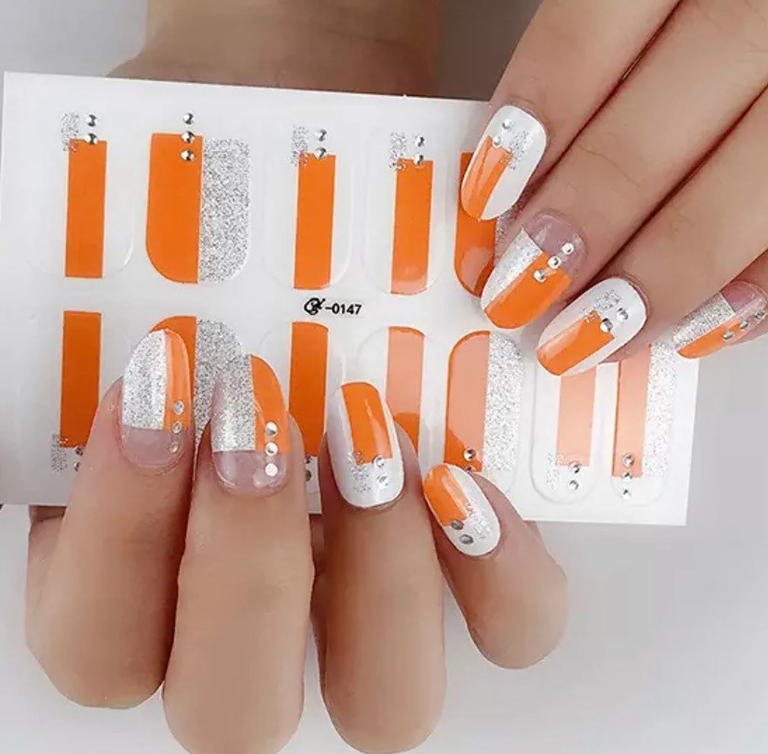 Orange and white is a popular combination so I've rounded up a few nail ideas that combine the two colors. First up are these orange, white, and silver nails.
I love nail wraps because my nail art skills are not the best, and they make the nail art process so easy! Plus, nail wraps are generally a lot cheaper than press-on. These nails are awesome because they're done with nail wraps. In fact, the whole set is available on Etsy for around $6.
Pumpkin Spice Long Nails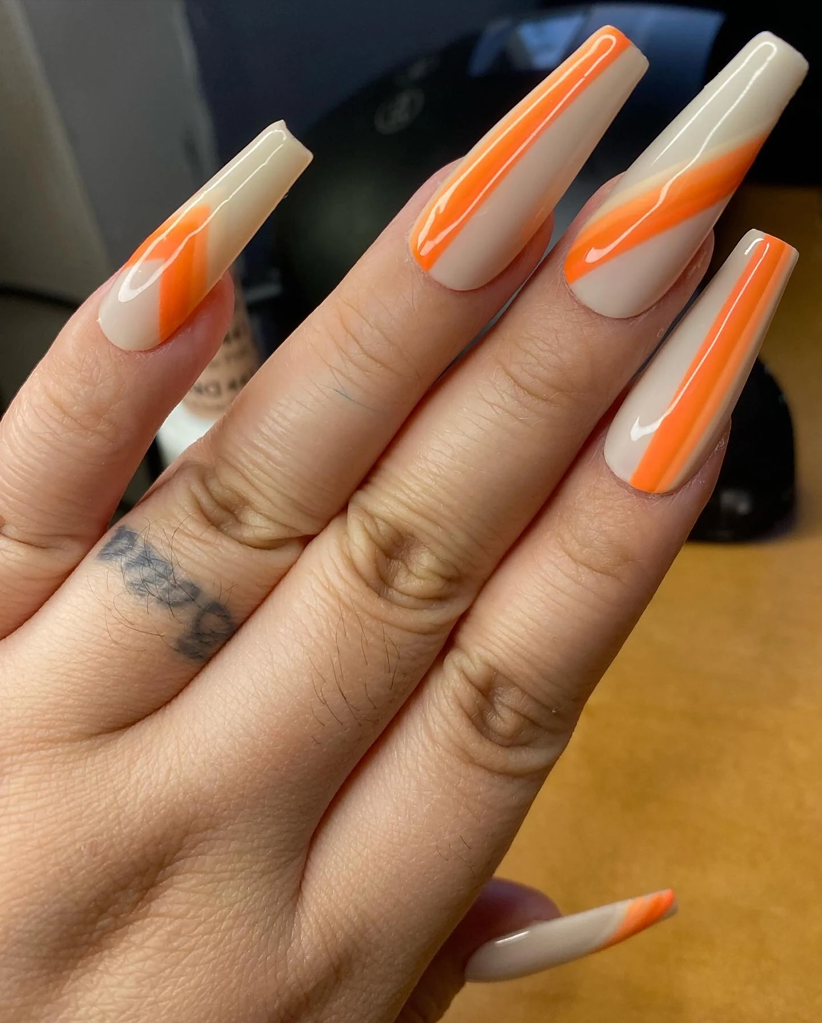 These long nails combine an off-white base with orange stripes for a retro cool look that's perfect for fall. I love how they combine two shades of orange for a dimensional feel.
Once again, these nails are press-on, so order the set, and you can do your nails at home! They would also be easy to DIY with a couple of shades of orange polish and some scotch tape to make your straight lines.
Long Coffin Nails with Orange Swirl Tips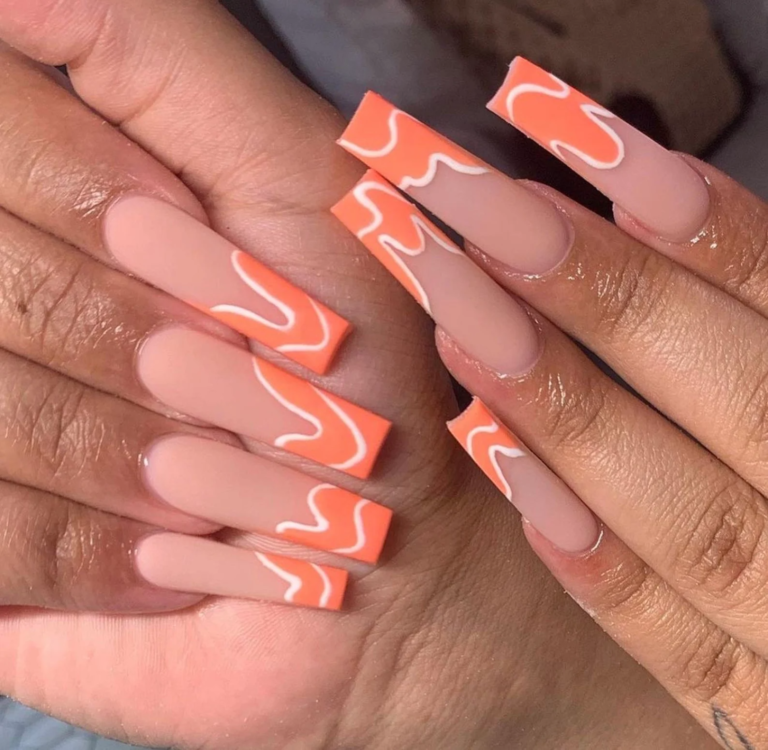 Nails with abstract tips like these are having a moment, and they look great in orange and white. You could definitely get these done at the salon, but they're also available as a set of press-ons if you want to save some cash.
You could also DIY them with a small nail brush. I like this design as a DIY in particular because the nails are meant to be abstract, so your lines don't have to be straight.
Orange Creamsicle Nails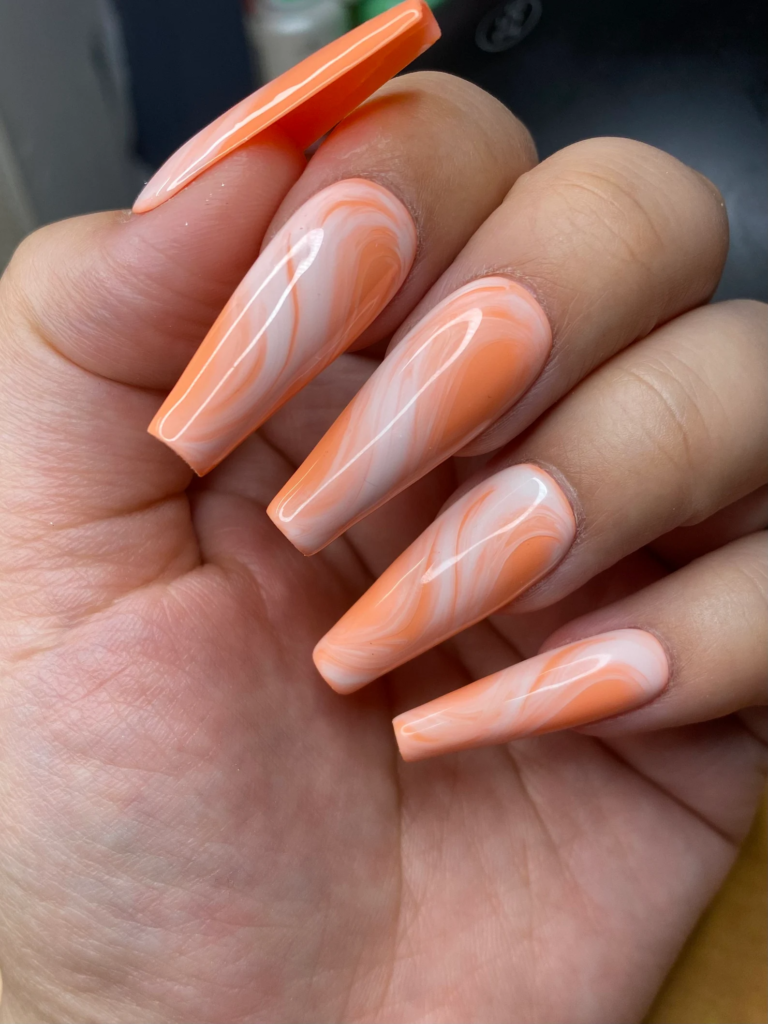 How dreamy are these orange creamsicle swirl nails? I love the look of a pale orange swirled together with a creamy white — so pretty. These would be amazing to rock in the summer or for a college football game if your colors are white and orange.
These would be easy to DIY at home if you follow a water marble nails tutorial, or you could buy the set of nails on Etsy for the exact look.
Orange and Pink Nail Designs
Pink and Orange Swirls Nails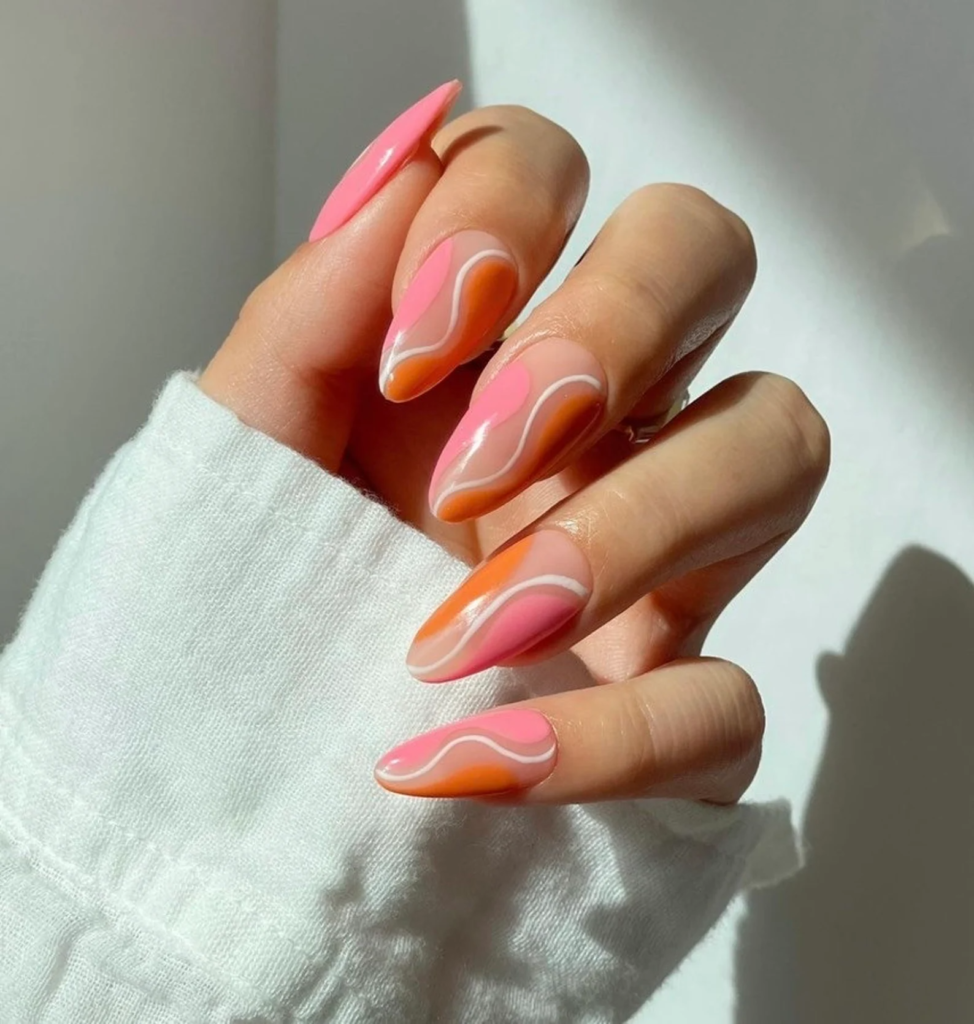 Pink and orange are another popular color combo for nails, especially in the summer months. While some people say pink and orange clash, I personally think the look is funky and fun.
Here's another variation on swirl nails, this time incorporating light pink, orange, and white into the design. I love the shape of these press-ons, too; the short almond shape is so pretty and girly and pairs well with the design.
Neon Pink and Orange Disco Nails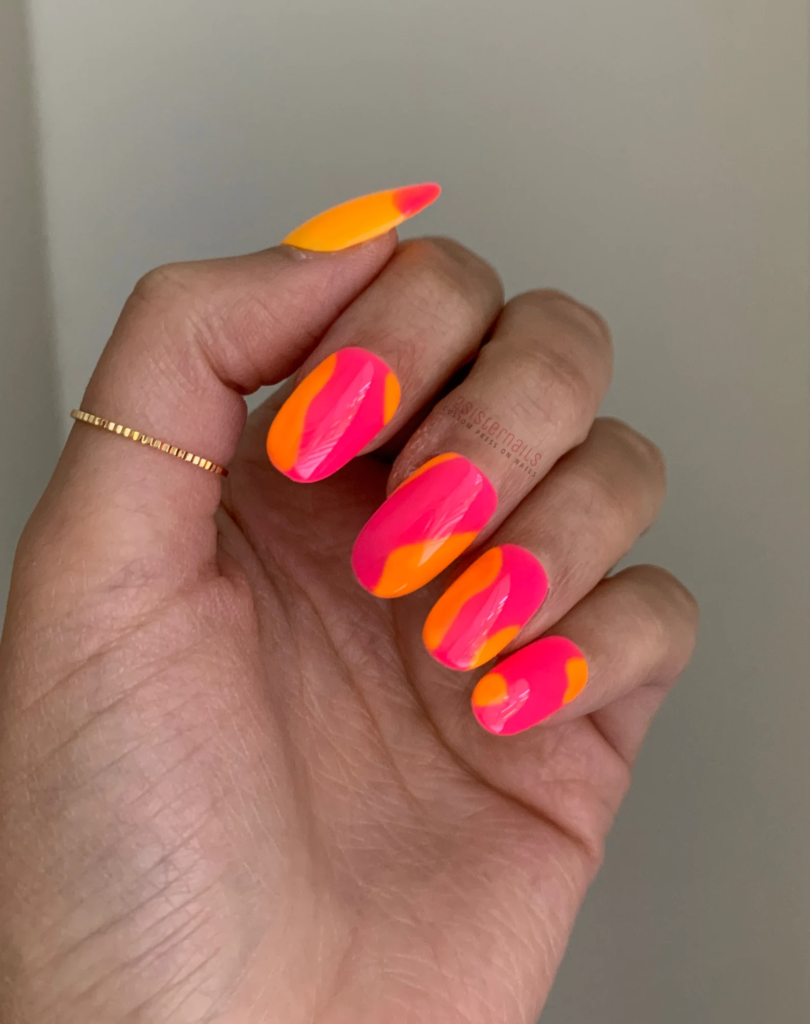 Here's the perfect nail look if you want something bold for vacation! These neon orange and pink disco ball nails practically scream "spring break." They'd be right at home in Miami or any tropical location.
I particularly like the short length of these nails. The shorter length helps to balance out the bold colors, so the nails don't look too crazy or over-the-top. I prefer shorter nails on vacation as well, since, in my experience, they tend to stay on longer and get snagged on fewer things.
Retro Pink and Orange Wavy Nails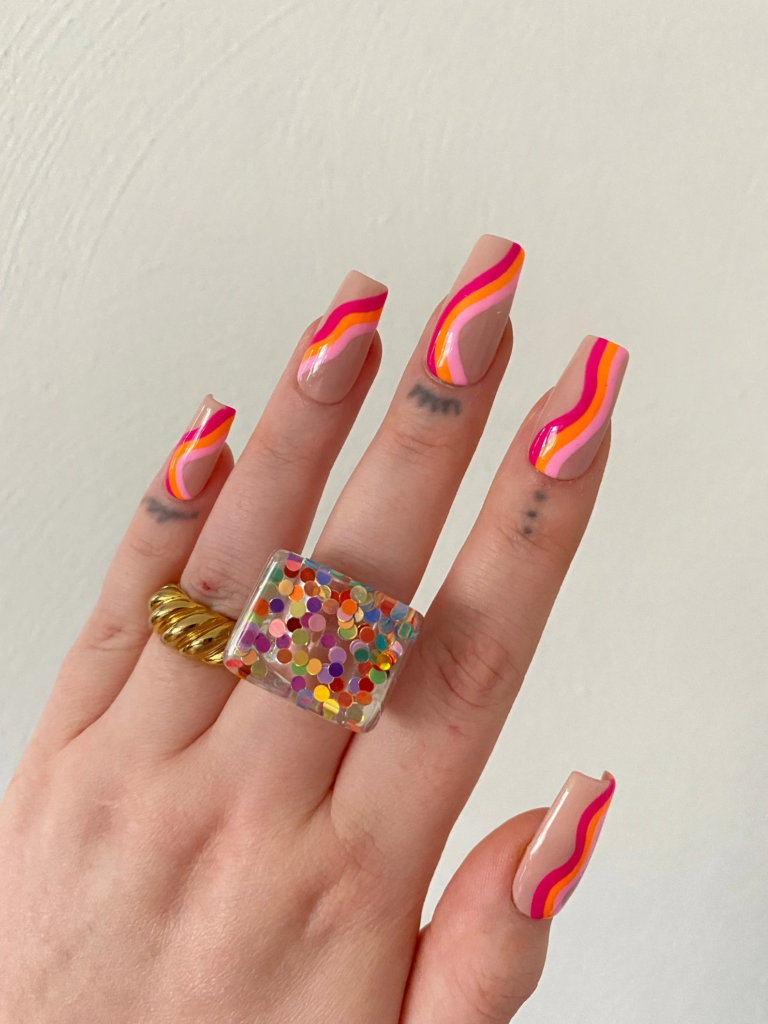 If you want your nails to have a retro feel, look no further than these orange, red, and pink retro swirl nails. They look straight out of a '70s roller rink in the best possible way.
The best part about these press-on nails (linked above) is that they're completely made to order so that they will fit your fingers perfectly. You can also specify what shape and length you want for nails you will wear again and again.
Hot Pink and Orange Alternating Nails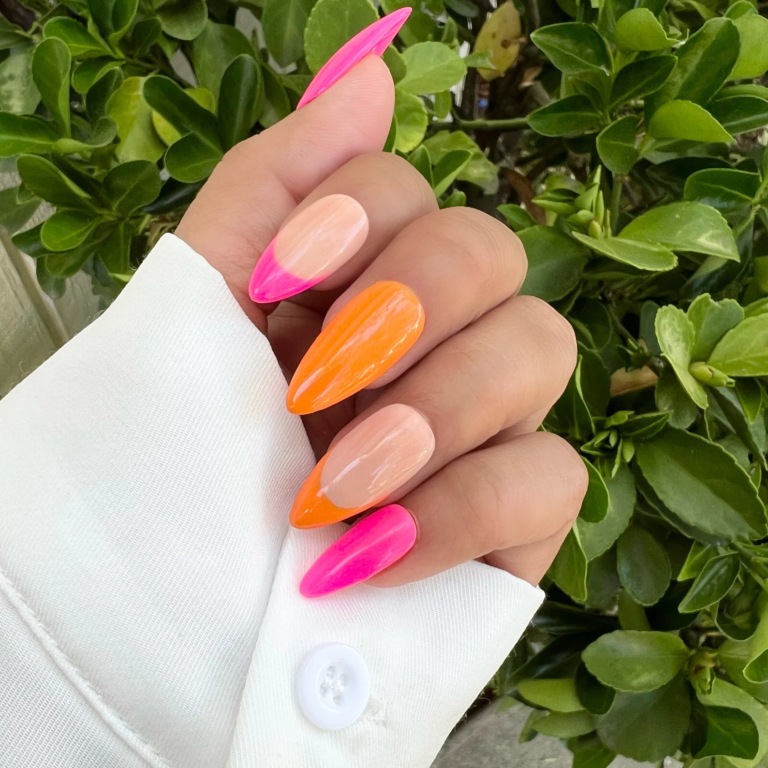 Last on our list is this super cute neon orange and pink alternating nail design. It features a mix of single-color nails and colorful French tips for a unique and eclectic design.
Though these are press-ons, these nails would also be easy to DIY at home with a couple of neon polishes and some French manicure stickers. If you want the length, however, definitely go for the press-ons!
What's your favorite orange nail design?
I hope these designs have inspired you to give orange a try during your next salon visit! I know I'll be rocking orange nails much more often from now on.
Do you ever wear orange nails? If so, which of these designs would you choose? Let me know what you think by leaving a comment down below.
If you liked this article about pink and orange nails ideas, check out our related posts below —
21 Gorgeous Black Nail Ideas You Need to Try ASAP
A Complete Guide to Retro Nail Polish Styles
17 Beautiful Red Nail Ideas You Can Rock Year-Round 
Vacation Nails: 3 Easy Ways to Keep Your Manicure Looking New